Aldershot housing development for Veterans moves a step closer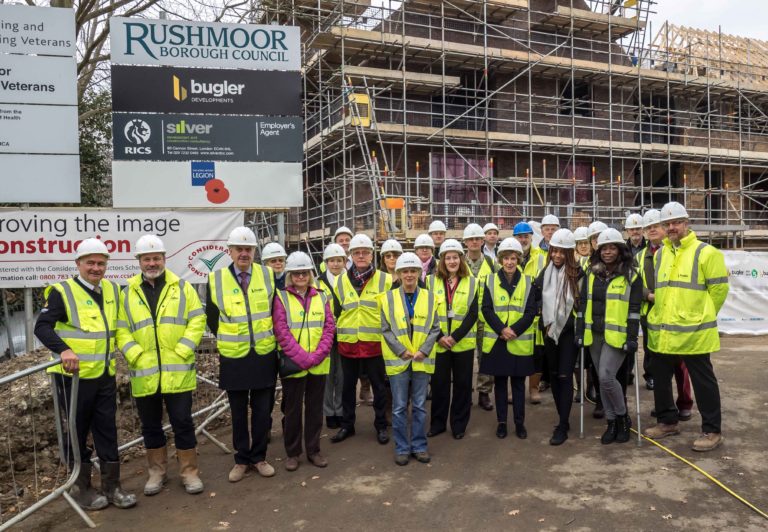 Stoll, the leading provider of supported housing for vulnerable and disabled Veterans, celebrated an important milestone at its latest bespoke housing development for Veterans, with the first roof tile being laid in the presence of Centenary Lodge's first new resident.
The £10 million development, on schedule to open in Spring 2018, will create 34 much-needed homes in Aldershot for people with support needs who have served in the Armed Forces.
Andrea Howlett, Stoll's Director of Housing and Development, was joined by Councillor Jacqui Vosper, former Mayor of Rushmoor, to lay the first roof tile.  Rushmoor Borough Council's Cabinet member for Housing, Councillor Barbara Hurst, and Hampshire County Councillor Bill Withers – himself a Veteran – also attended with a number of other guests including Warrant Officer Welch from the Aldershot garrison, representatives from Stoll, Mike Jackson House and Walking with the Wounded.
The guest of honour was Marquetta Lyte, the first Veteran to accept an offer to move her family into Centenary Lodge when it opens next Spring. Marquetta served in the Army for 9 years as a chef with the 27 Regiment until she was medically discharged in April this year.  She said:  "I've been staying in the family quarters in Aldershot with my four children. I'm very ready to move out from the Army accommodation as it feels hard to move forward with my life now I am no longer serving. I'm so pleased we can move into Stoll's Centenary Lodge – it means my children can stay in their schools and I can't wait to have our own place."
Andrea Howlett, Stoll's Director of Housing and Development, said: "We're thrilled to have Marquetta with us today, so that she can see her new family home starting to take shape -and to remind us why this development is about so much more than just bricks and mortar.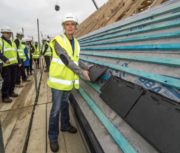 We're also of course grateful for the ongoing support offered to us from Rushmoor Borough Council, Hampshire County Council, Mike Jackson House and the Aldershot garrison; also our generous funding partners, without which this wouldn't be possible."
Commenting on the development's progress, Cllr Jacqui Vosper, who just over a year ago cut the turf to symbolise work starting on site, said: "It's really encouraging to not only see the building coming along, but also to meet someone who is going to benefit from Stoll's development here in Aldershot. I look forward to seeing the finished building next Spring."