All The Fun Of The Fair To Help Support Veterans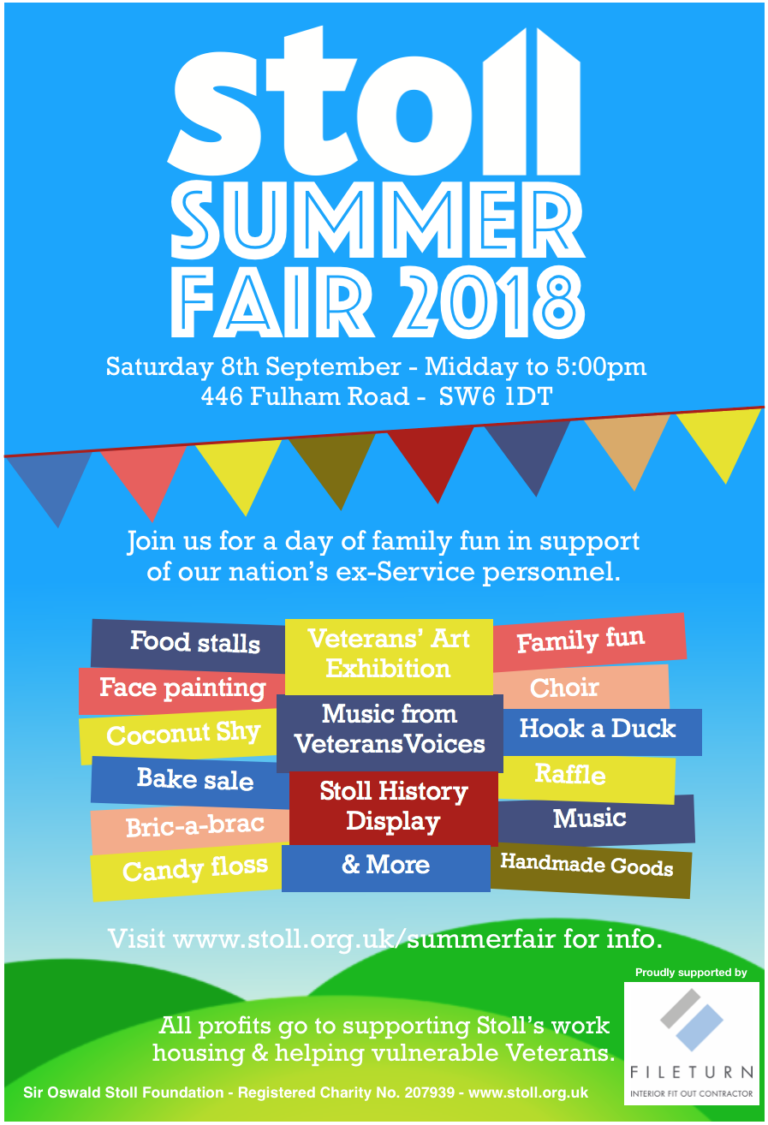 On Saturday 8th September at midday, the historic Stoll Mansions on Fulham Road will be opening its doors to welcome the local community for the first time ever to the Stoll Summer Fair.
The Fair will be a fun, family-friendly day packed with stalls, live music and activities. Stoll is delighted to welcome the Mayor of Hammersmith and Fulham, Cllr Daryl Brown and the Council's Armed Forces Champion, Cllr Alan De'Ath. The charity Stoll has been at the heart of the local community since 1916 and is the leading provider of supported housing to vulnerable Veterans. All profits from the Fair will go towards supporting Stoll's work to house and help the nation's ex-Service personnel.
On the day, you can expect to find stalls filled with crafts, homemade goods and bric-a-brac, as well as delicious food including a BBQ. Children and adults alike can have their faces painted or try their luck at some traditional fair games, such as hook-a-duck or the coconut shy; all polished off with a candy floss. There will also be live music from Veterans Voices throughout the day and an art display by Stoll Veterans.
Stoll resident Alan is helping to plan the Fair: "It's all go at the moment, working with fellow residents and Stoll staff to pull off a great event. Stoll really helped change my life; I now have my own home and I feel secure. Helping to plan the Summer Fair is a great way for me to give back to the charity and help more Veterans."
Stoll would like to thank Fileturn, the official sponsors of the Stoll Summer Fair. Fileturn, an innovative interior fit-out contractor, is also a founding member of Stoll's Corporate Supporters Programme.
Andrew Hart, Chairman of Fileturn, said: "Stoll provides invaluable support to Veterans, who need and deserve the comfort and security of a roof over their head. It makes perfect sense for Fileturn to lend its weight to this work, both financially and practically and I am proud to be associated with such a worthy and forward-thinking charity."
---
Stoll's Summer Fair takes place on Saturday 8th September, from 12pm – 5pm. Entry is free but we are recommending a suggested donation of £3 per person – this will boost the profits to ensure we can continue to house and help vulnerable Veterans.
If you would like a stall at the Stoll Summer Fair, or your business wants to donate and support our work with the Veterans' community, then please contact the Stoll fundraising team: fundraising@stoll.org.uk