Army Veteran celebrates re-opening Fulham café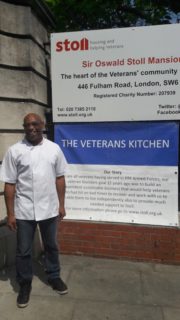 The Veterans' Kitchen at Stoll on the Fulham Road is re-opening today after a facelift selling a great range of breakfasts, salt beef bagels and summer snacks. The café is run solely by Stoll Veterans giving people a chance to gain new skills and training when they leave the Armed Forces.
The Veterans' Kitchen is run by Army Veteran Ian Camps who served in Northern Ireland and in Cyprus. When he left the Forces he became homeless before getting a home to rent with Stoll in West London. He then re-trained as a chef and now leads a team of staff and volunteers at the café.
Ian Camps said: "We have refurbished our outside seating area so it's now a great place to stop for something to eat and drink – perfect for the summer. We have a relaxed atmosphere with friendly banter just like the cookhouse mentality from my time in the Forces. Having a stable home and being able to run our little café for Veterans and the local community has helped me get back on track."
When people leave the UK Armed Forces, most people adjust to civilian life. But some people struggle to adapt to the very different demands of life outside the Forces. It is for these vulnerable Veterans that Stoll exists – providing a home and access to work and support so that people can stabilise their lives and become independent again.
Ian continued: "When people leave the Armed Forces, some people find it tough to adjust to civvy street – I know I did. I look at myself now running a social enterprise and serving customers at the Veterans' Kitchen – and I have to pinch myself. When I was homeless I didn't trust anyone – let alone be able to serve them jerk chicken. Army life gave me a structure that I think I took for granted at the time and when I left the army I struggled. I was like a boat without a sail or a rudder. Lost. People talk about the transition from the Armed Forces to civvy street as if it is always a really smooth process but that's not true for everyone. It wasn't for me."
Stoll's outreach team provides advice and support to Service Leavers and Veterans on a wide range of issues from housing to work, and benefits to access to expert healthcare. Contact outreach@stoll.org.uk or call 020 7385 2110.
You can read more about Ian's amazing journey here.