First bricks laid on new Veterans' housing in Aldershot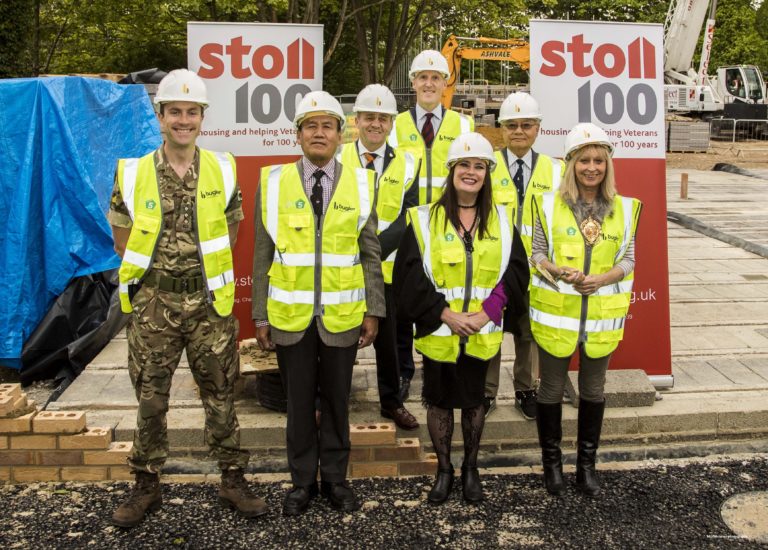 Armed Forces Veterans have laid the first bricks at Stoll's new development in Aldershot. Stoll, the leading provider of Veterans' housing and support, is building 34 new homes for vulnerable and disabled Veterans to rent. The new homes are being built on the site of the former care home on the edge of a nature reserve in suburban Aldershot to address the housing shortage faced by the nation's ex-Service men and women. The new homes will be available to rent from March 2018.
Armed Forces Veterans were joined by Councillor Jacqui Vosper, the Mayor of Rushmoor, Councillor Clifford, the Leader of Rushmoor Council and Captain Andy Green.  The first bricks were placed by Veterans who have been housed and supported by Stoll.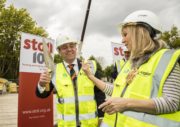 Ian Belcher, Army Veteran and current resident laid the first bricks on the Aldershot site. He said: "When I came out of the Army, I was in a temporary hostel and ended up kipping in a tent. The more houses for Veterans the better; I think Stoll's Aldershot site will make all the difference for Veterans who need it most."
Tina, Navy Veteran and Stoll resident, said: "The Aldershot development is going to be calming, welcoming and homely which is so important for Veterans who are going through transition or have been unsettled. Coming straight from military quarters, affordable housing is key to make sure the change to civilian life is as easy as possible for Veterans."
The decision to provide accommodation in Aldershot follows the publication of Meeting the Housing and Support Needs of Single Veterans in Great Britain, a researched project commissioned by Stoll and Riverside which highlighted Aldershot as an area of particularly high housing need for Veterans. Feeling part of a community is a vital issue for many Veterans and therefore the health and wellbeing activities which will be available at the new development will also be available to Veterans living in the area.
Stoll Chief Executive, Ed Tytherleigh, said: "We are delighted to see this important and high-quality development being built as it will address the housing difficulties many people face when leaving the Armed Forces. We will work closely with local partners and we look forward to providing those Veterans in the greatest need with an affordable home to rent. Our housing model has worked well in London for 100 years and we are pleased that we will now be able to support Veterans in the Aldershot area to lead fulfilling independent lives."
The scheme is part of the Veterans' Accommodation Pathway in Aldershot, funded by the Veterans' Accommodation Fund, which aims to provide better joined-up housing services for Veterans. The Homes and Communities Agency, the Royal British Legion, the Bernard Sunley Charitable Foundation, The Clothworkers' Foundation and the Wolfson Foundation have pledged money to support this scheme.