How the Homelessness Reduction Act 2017 Can Do More for Veterans
The Problem
It is currently too easy for ex-Service personnel – especially younger veterans and Early Service Leavers – to end up homeless. Having served in the Armed Forces and, despite the commitments many Local Authorities and other bodies have made through the Armed Forces Covenant, too many veterans live in inappropriate accommodation, sofa surf, reside in hostels or end up homeless on the streets. This is despite the positive intentions of the Homelessness Reduction Act.
Current evidence shows that around three per cent of rough sleepers in England are veterans which means that each year 3 or 400 veterans rough sleep ever year and around 3,000-4,000 veterans require urgent support to find accommodation.
Current Work around Veterans and the Homelessness Reduction Act
Recent research, supported by The Forces in Mind Trust, shows what is needed above all is a more co-ordinated approach to dealing with veterans' homelessness.  We need to ensure that veterans do not slip through the net when they leave the Armed Forces and when they interact with civilian services such as Local Authorities and homelessness charities they can receive the support they are entitled to.
Although the majority of ex-Service personnel will move successfully into civilian life, there is still a number who don't. The Cobseo Housing Cluster, the membership body representing veterans housing and homelessness charities, has a bold ambition and plan of action: to reduce veterans' homelessness as close to zero as possible.
The No Homeless Veterans campaign aims to ensure that all Local Authorities, homelessness charities, advice agencies and any others who interact with homeless people have the needs of veterans embedded into their strategies and practice, thereby ensuring that veterans are given the support they deserve but often fail to receive.
The intention of the No Homeless Veterans campaign is simple.  We want to ensure that veterans who are homeless or at risk of homelessness are identified and steered to the correct support as quickly as possible, thereby ensuring they have a pathway away from homelessness as soon as they are identified.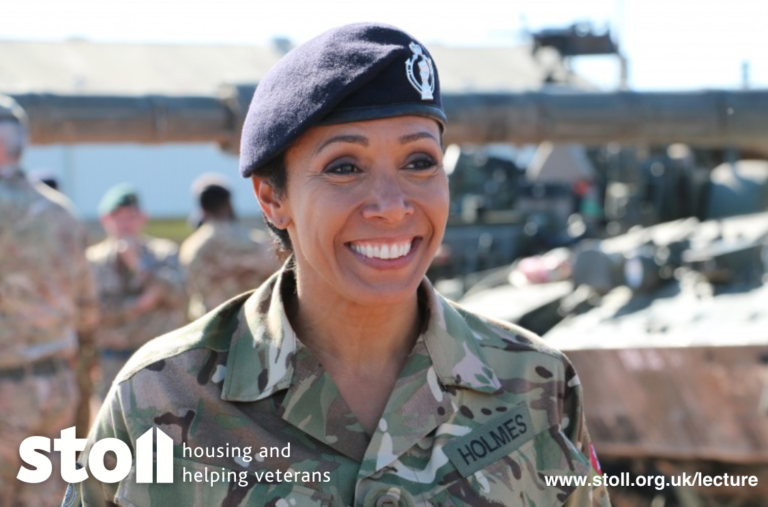 "No veteran should be homeless. That is why I am supporting the No Homeless Veterans campaign to end veterans' homelessness and to help our country's veterans when they need it most. Stable housing is key to helping veterans adjust to all aspects of civilian life – work, family, health and well-being. I want to encourage others and especially those on the front line dealing with homelessness, to "Think Veteran" and get those ex-Service personnel who are in need of help to the support agencies that are available to them." Dame Kelly Holmes, in support of the campaign.
How the Homelessness Reduction Act Can Work for Ex-Service Personnel:
Local Authority Housing Departments and others should 'Think Veteran'
People presenting for housing support and advice should be asked whether they have served in the Armed Forces
When a veteran applies for housing, the fact that they have served in the Armed Forces should be recorded and they should be given clear and practical advice, so they do not end up homeless – with the option that Local Authorities and Housing Associations ring-fence beds or give extra priority to those who have Served in the UK Armed Forces
Local Authorities and others must ensure that veterans are featured within housing and homelessness strategies
Front-line staff in these organisations must be trained to identify veterans and equipped with the knowledge of where to send homeless veterans so they can get the necessary support as soon as possible.