HRH The Countess of Wessex opens 34 new homes for Veterans in Aldershot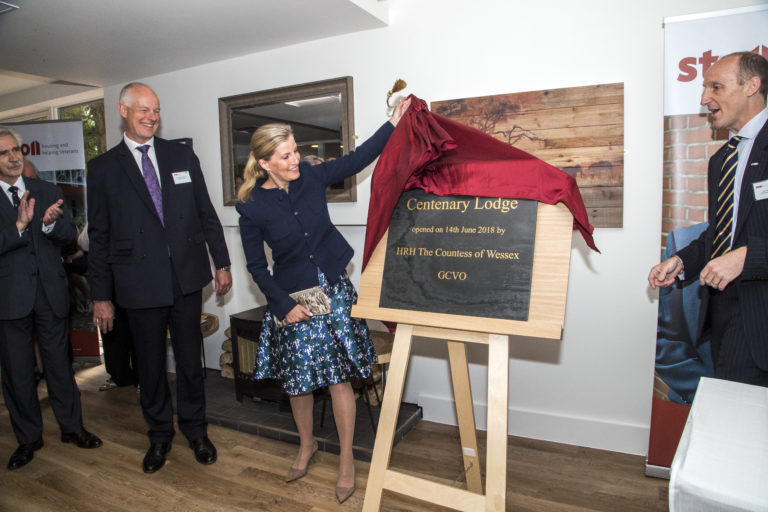 Thirty-four brand new purpose-built homes open in Aldershot on 14th June to address the lack of housing for former members of the Armed Forces. Centenary Lodge on Evelyn Avenue will be home to a mixed community of Veterans of different ages,
their partners and families. The new homes will be run by Stoll, the leading provider of housing and support for Veterans.
Her Royal Highness The Countess of Wessex, who is Stoll's Patron met some of the residents and formally opened the new building.
Ed Tytherleigh, CEO of Stoll, said:  "I'm delighted we're opening Centenary Lodge today to help tackle the shortage of housing in Aldershot for former soldiers and other members of the Armed Forces.  We are working to ensure that anyone who serves their country has an appropriate place to live – a place to call home where they can rebuild their lives. We are very grateful to all our funders for making this special place possible."
Stoll chose to build new supported housing for Veterans in Aldershot following a piece of nationwide research it commissioned to understand Veterans' housing need across the country.
Facts about Centenary Lodge:
·       700 lorry loads of soil were removed to make way for Centenary Lodge
·        120,000 bricks and 1,300 tonnes of concrete were used to build the homes
·        the roof has 28,000 tiles
·        the equivalent of 26 miles of cabling has been installed
·         Veterans will pay a social rent
·         The accommodation includes accessible flats for disabled Veterans, as well as homes for families
·         People will live independently in their own homes
·         Additional support services will be available, such as skills training to help people get into work or volunteering
·         Communal spaces for therapy and community activities are also available, with landscaped gardens surrounding the building.
Sarah Green, an environmental health technician in HQ Regional Command, is leaving the Army this September following a successful 18-year career. Her decision to leave was largely influenced by her need to care for her severely asthmatic four-year old son, who is regularly in and out of hospital.
She said: "Getting out of the Armed Forces and looking for a home and a job at the same time, everything changing at once, was quite an overwhelming prospect. Discovering this Stoll property has provided me with a real lifeline. It means that I can stay in Aldershot and my son can stay at his school and has continuity of care at the same hospitals. The affordable accommodation means that my family life can start to take shape. It will also be great to be living around people from the Armed Forces community, who can understand me in a time of transition."
Councillor Jacqui Vosper, Rushmoor Borough Council's Armed Forces Champion, said: "There is a real shortage of this kind of social housing for veterans, who have given so much to their country, so we are delighted to welcome them and their families to Aldershot.  We look forward to working closely with them and Stoll as they become an important part of our local community."
Stoll would like to thank the following organisations for generously supporting the development of Centenary Lodge:
·         Acland and Lensam Property Consultants
·         The Cohen Family
·         Major Richard Freeman
·         The Royal British Legion
·         The Wolfson Foundation
·         The Clothworkers' Foundation
·         Garfield Weston Foundation
·         The Bernard Sunley Charitable Foundation
·         The Charles Wolfson Charitable Trust
·         Armed Forces Covenant Fund
·         Charities Aid Foundation.
Head of Grants and Social Policy at The Royal British Legion, Steve Baynes said:
"Access to suitable housing is a key need for many people eligible for the Legion's help. Stoll's Centenary Lodge Housing development will help the residents achieve the confidence they need to live independently and get back on their feet. Our contribution of £675,000 to this project is one of a number of grants to other organisations that highlights the Legion's commitment to providing lifelong support for the Armed Forces Community."