Much-needed Veterans' housing shortlisted for prestigious award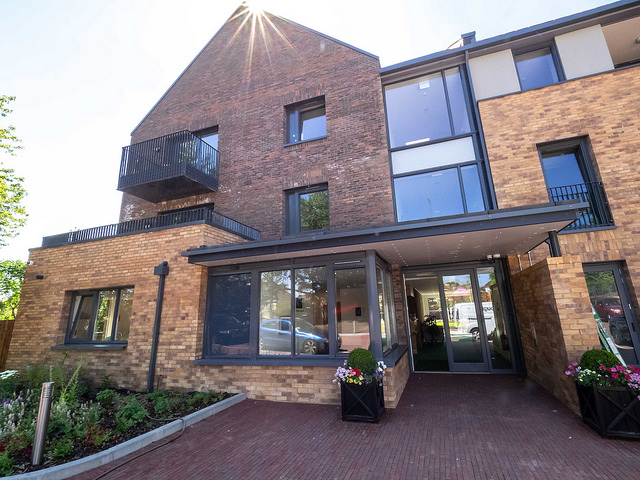 A much-needed housing development that offers bespoke support and housing to a mixed community of Veterans of different ages, their partners and families has been shortlisted for a prestigious award within the housing industry.
Centenary Lodge in Evelyn Avenue, Aldershot, was officially opened by housing charity Stoll's Patron, HRH The Countess of Wessex, back in June. The scheme was built to address the lack of housing for former members of the Armed Forces.
Stoll chose to build new supported housing for Veterans in Aldershot following a piece of nationwide research it commissioned that identified Aldershot as an area of high unmet need.
Anne Walker, Scheme Co-ordinator at Centenary Lodge, said: "Leaving the Armed Forces and returning to civvy street can be really tough, especially if you're struggling with physical injuries or mental health issues. I've seen first-hand how having a safe and supported place to call home that's affordable can really make all the difference."
Duncan Allan served with The Second Battalion, Parachute Regiment (2 PARA) for over 15 years. Prior to moving into Centenary Lodge, Duncan was living in a cold, uncarpeted flat, with no natural light. His mobility issues were compounded by the steep stairs and a totally unsuitable bathroom with no functioning shower.
"Following my time in the Forces I began struggling with Post Traumatic Stress Disorder and, coupled with my physical problems, I found myself sinking lower and lower in a totally unsuitable flat.
"Now I have the accessible space I need and, best of all, I can see the sun coming up which stays in my living room until the early afternoon. Moving here has not only benefited my physical wellbeing, but it's given me peace of mind – in fact, I'd go as far as to say my state of mind has improved by around 75%.  I've made some great new friends and now have a good support network.  I really don't know where I'd be without Stoll."
Centenary Lodge has been shortlisted in the Best Affordable Housing Development category at the Inside Housing Development Awards. The awards will be judged by experts from across the housing sector, with the winner announced at a ceremony in London on 29 November.
Anne commented: "There's a real shortage of this kind of quality, affordable housing for Veterans, who have given so much for their country. Centenary Lodge is a testament to the dedication, enthusiasm and hard work put in by everyone involved in the project that has helped to make it a truly special place for Veterans in need.  We're so proud of what we've achieved here and would be thrilled to win this award."