Statement in response to the Sunday Telegraph
17 November 2017, Update to the statement issued on 5 November 2017.
A misleading article in The Sunday Telegraph wrongly suggested that the Charity Commission was 'investigating' Stoll. There was no investigation. We received an email from the Charity Commission on 2 November enquiring about the deaths of two Veterans. We were very saddened by the deaths of these cherished residents and we replied to the Commission setting out the facts. On 17 November we received a further email from the Commission informing us that the matter is closed. As we pointed out to the Sunday Telegraph, the allegations the paper reported were false.
---
Ed Tytherleigh, CEO at Stoll, said:
"Everyone at Stoll is very saddened by the deaths of Paul Row and John Hiscott earlier this year. Paul and John were much-loved members of Stoll's vulnerable Veteran community, and our thoughts are with their families and friends."
Responding to suggestions that the residents were not found for several days after their death, Ed Tytherleigh continues:
"These suggestions are false and are not supported by the evidence. Paul Row was seen on multiple occasions by members of the community before his death, including the day before his death. He died suddenly of natural causes after living independently at Stoll happily for a number of years.
"John Hiscott took part in a Stoll charity collection with staff and residents on the Sunday prior to his death. When his family contacted Stoll saying he had not been in touch with them, our staff responded promptly and made considerable effort to contact him in a number of ways: by telephone, email and by visiting his flat several times. We ascertained John was alive in his flat the day before he died.
"The police informed us that John had taken his own life and declared that neither death has been treated as suspicious.
"I have reviewed the actions our staff took and I am satisfied that at all times we acted appropriately. People live independently at Stoll and have their own keys, and their own front door. We support vulnerable Veterans enabling them to live independently, access training and find work. We are not a formal care facility."
The paper has also reported suggestions that Stoll did not send condolences to the families. Again, we dispute these suggestions.
"Suggestions that we did not commiserate with John and Paul's families are not wholly accurate. We contacted John's family by telephone and sent a letter recording some cherished memories of John's life. Our staff also met with Paul's family. Following any incident, we look to learn lessons and we have already evolved the way we communicate with family members when a resident dies.  We have all been deeply saddened by the passing of these much-cherished tenants."
Air Commodore and Chairman of Stoll, Andy Fryer, said:
"Stoll is here to support vulnerable Veterans and we know that a huge number of our residents experience difficult repercussions from their military service. A significant number of the people who have a home at one of our schemes have mental health needs, including Post Traumatic Stress Disorder. We provide bespoke support to help people lead independent lives but we know time in a war zone is never forgotten and often affects people deeply.
We were greatly saddened by the deaths of Paul Row and John Hiscott. On 2 November we received an email from the Charity Commission requesting information and are working with them to address their enquiry."
The Sunday Telegraph wrongly states that a Charity Commission investigation is taking place. This is incorrect. Stoll has published a copy of the letter of condolence that was sent to John's family on June 16th. We were informed on 2 November that the family did not receive the letter. The letter was re-issued on 3 November. You can read it below.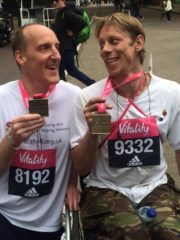 John and Ed at a Stoll event last year.
---