Preparing to cycle 100m for Veterans – Andy Fryer blog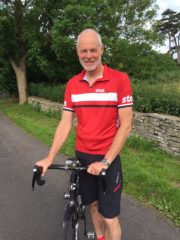 I have recently started to increase the amount of time I spend training on the bike in preparation for the fantastic Ride 100 event on 30 July. This is a great cycling event through London and parts of Surrey, and I am delighted that several people will be cycling with me to raise money for Stoll including Air Marshal Sir Timothy Michael Anderson, KCB, DSO who served as the inaugural Director-General of the Military Aviation Authority. It is an honour to be riding alongside old friends for such an important cause.
At Stoll we rely on fundraising to pay for the fantastic range of support we provide to Veterans in the greatest need and I am delighted that we have received £12,000 in new funding from the Royal Air Force Benevolent Fund (RAFBF) to help promote independent living for ex-RAF servicemen and women.
As well as providing housing, Stoll is absolutely committed to offering a unique combination of health, well-being and employment support to vulnerable and disabled ex-Servicemen and women to help them live as independently as possible. We will be using the money from the RAFBF to support older and disabled Veterans and their dependents, enabling them to remain in their home at Stoll, rather than face the possibility of needing to move into a care setting. The money will pay for domestic support such as helping with washing and cleaning.
We are very proud of our strong links to the RAF and are so pleased that several ex-RAF servicemen and women are part of the Stoll community. We also have some literary links to the RAF. At Stoll we have a fascinating book of poems and sketches by a number of well known individuals. One of these is by Rudyard Kipling; it is an original copy of a poem about an RAF pilot, written by Kipling when he was 18. World War One was a subject close to Kipling's heart as his son John Kipling went missing in action in 1915. Kipling had great difficulty accepting his son's death, having played a major role in getting the chronically short-sighted John accepted for military service.
Our founder, Sir Oswald Stoll, put the book of poems together as a fundraising tool to help gather support from the public when he was first setting up the charity in 1916. It's interesting to see that much-needed fundraising tactics were being used 100 years ago!
We owe so much to those who have served including those who have taken to the skies. Members of the Armed Forces are proud to serve their country and at Stoll, we make it our responsibility to meet the housing and support needs of some of the Veterans in the greatest need.
Regardless of whether the money raised comes to us because of a cycling event, a grant, poems or another way, your donations are received with much appreciation and our guarantee that the money is always used to help those in the greatest need.
Air Commodore Andy Fryer is a former RAF Nimrod navigator who saw action in the Falklands, Balkans and Afghanistan. Andy is the Chairman of Stoll.