Stoll Hold Second Annual Fundraising Lecture with Dame Kelly Holmes
Stoll's Annual Lecture 2019 proved to be an enjoyable and interesting evening for all who attended, with Hon. Colonel Dame Kelly Holmes telling her inspiring story and reflecting on her military and sporting experiences.
Dame Kelly spoke poignantly about overcoming past difficulties, being the best that you can be and about the military ethos and values that helped to shape her sporting career. Dame Kelly said of Stoll:
"No veteran should be homeless. Stable housing is key to helping veterans adjust to all aspects of civilian life – work, family, health and wellbeing. I am therefore delighted to support Stoll in their work to help and house homeless veterans. Stoll's work is vital to ensure every veteran gets the help and support they need and that no veteran finds themselves without a home."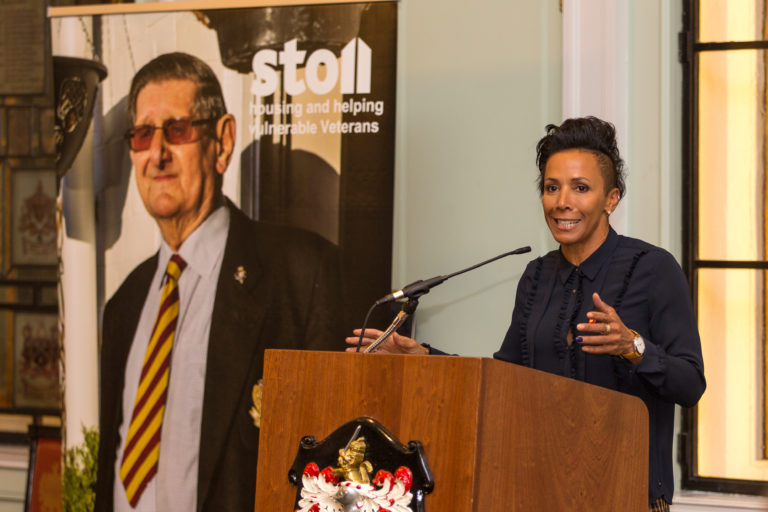 Ed Tytherleigh, Chief Executive of Stoll, said:
"We were delighted to have Dame Kelly join us at Trinity House for Stoll's Annual Lecture. She is a truly inspirational figure and it was an honour to hear her story in person. We were very pleased to have Stoll residents, guests and members of staff attending the event, as well as the event's sponsor, Sanlam UK, without whom it would not have been possible."
The event took place on Thursday 7th November 2019 in the magnificent setting of Trinity House near Tower Hill, a Grade I listed building built in 1796. Trinity House itself was originally founded in 1514 following a Royal Charter by Henry VIII and has since worked to protect the safety of shipping and to safeguard the well-being of seafarers.
For more information on future events and how you can support Stoll, visit our Support Us page.