Stoll Veterans kick off Armed Forces Day celebrations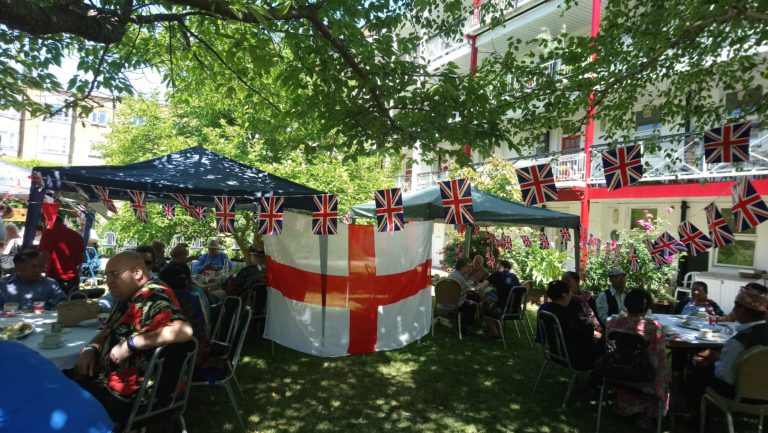 Veterans from across Stoll's four London housing sites got together today to kick off some early celebrations for this year's Armed Forces Day with fellow residents, family and friends.
Armed Forces Day, which takes place nationally on Saturday 30 June, is an opportunity to support the men and women who make up the Armed Forces community: from currently serving troops to Service families, Veterans and cadets.
Stoll's tight-knit Veterans' community has been busy planning for today's garden party for several weeks now.  The celebrations included a delicious afternoon tea in the sunny garden area, followed by some competitive – but good-natured – indoor curling.
Ian Camps, owner of the renowned Veterans' Kitchen café, took charge of today's afternoon tea. He said: "Today is about connecting with like-minded people who have made a sacrifice and served their country, but most importantly it's about having some fun. Most of the Veterans living here at Stoll have been through extremely tough times and it's essential that we continue to support each other as a community."
Talking about today's celebrations, Veteran Ian Belcher, said: "It' been a great turn-out today and I particularly enjoyed the curling; I'm delighted to be here with my fellow Veterans chatting and having a laugh."
Claire Bendall, Head of Services at Stoll, said: "I've been really impressed by how much time and effort the Veterans have put into organising today.  It's a mixed community here and everyone has pulled together and done a fantastic job to make this a special – and well-deserved – celebration for all the Veterans."
·         Stoll would like to thank Chelsea Football Club for its generous contribution to today's Armed Forces Day celebrations here at Stoll