How Stoll's Drop – In changed my direction: Nicola Stokes blog
"Finding courage within myself and compassion from others helped me deal with my Post Traumatic Stress Disorder"
This month we hear from Nicola Stokes on how she copes with her PTSD and the change in direction which her life took when she made the step to visit Stoll's Drop-In service.
I began my career in the Forces with the Territorial Army when I was 17 before moving into the Royal Air Force where I was part of the Supply and Logistics team, ensuring that all the correct kit was issued for the pilots before they went on missions or training exercises. After five years I ended up going on tours to the Falklands, the Grand Canyon and Afghanistan and loved every minute. Despite all this amazing travel, the proudest moment of my career was my Passing Out Parade in 2004. It was incredible to know that all my hard work over the previous three years had paid off and I was ready to start my dream career. I loved being in the Forces. It was so much more than just a job. I had an amazing friendship network around me and a strong sense of security.
Sadly my life took a different turn when I was 32 and I developed Post Traumatic Stress Disorder. At around the same time, my Service came to an end and although I loved my job I knew that I needed a break. However when I left the Forces my living situation wasn't providing me with the support I needed and I knew I had to leave before I became too down to make changes for myself. I was feeling unbearably low and depressed but had nowhere to go.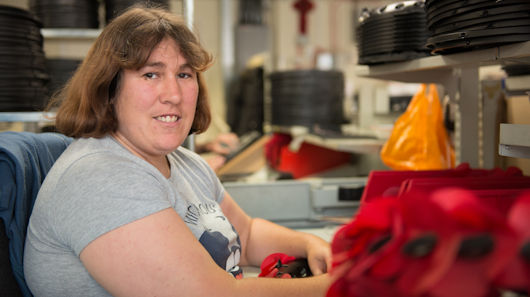 I was advised to go to a monthly Drop-In at the Stoll Mansions in Fulham. Stoll is the leading provider of supported housing for Veterans and has been helping ex-Service personnel since 1916. It runs a Drop-In every second Wednesday of the month where ex-Servicemen and women who are in need of support can go in and speak to staff and other Veterans about their options whether that be about housing, their mental health, developing new skills or just someone to talk to.
It took a lot of courage for me to go but I am so glad I did. Once I had spoken to the Veterans' Outreach Service team at Stoll they acted quickly and within two weeks they had found me a flat in West London.
The real positive from all this is that I have been able to finally tap into my creative side. I'm looking at College courses to pursue a career in dressmaking and I make cloth dogs for different charities each year which is always very popular, even if I do say so myself! I spend my spare time making poppies at The Poppy Factory which I love as it's incredibly calming and full of so much history. I am also considering going back in to the Reserves or applying to become a Cadet Instructor.
Don't get me wrong, PTSD will always be with me but I can now live a more settled and secure life. For me, running is essential for my mental wellbeing and I ran 24 races last year and have done seven so far in 2017.
Not enough female Veterans know about the help that is out there. It's not just men returning from the front line who come back with physical and mental scars. I believe that women are inherently incredibly strong but sometimes you need help to pull you out of a situation which you think may never end. I had no idea this help was available to me at a time when I was at my lowest. I'm now settled in my home with a fresh start ahead of me and that's ultimately because I took the step to go and ask for help. I would plead with other women in my situation to do the same.