Winter appeal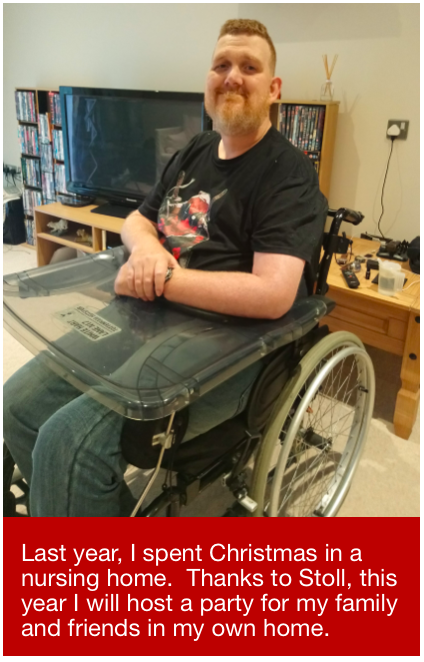 My name is Fred and I am one of the Veterans that your support of Stoll has directly benefited. You can support other Veterans like me by donating to the work of Stoll.
I joined the Royal Engineers in 1995 at the age of 22. My Father was in the army and growing up he was my role model. I loved my time in the army – it pushed me to achieve things I didn't think I could. In 2001 I left the army because I had fallen in love.  I'd served for six years and I knew I wanted to settle down. I had a new job, the love of my life and a beautiful family.  But then it went pear-shaped.
In 2008 I had a motorcycle accident and as a result, suffered from a serious heart condition. This heart condition led to me having a series of strokes, the final of which left me in a wheelchair. I was unable to return home to my wife and daughters and instead was moved into a nursing home.
I was in my thirties and living in a nursing home surrounded by elderly patients.  I started to feel like a prisoner – I barely left my room and became a real hermit. I had no community and felt very much like a patient rather than a person.  I just wanted to do simple things like go to the pub and have a pint once in a while.  It started sending me crazy and I became very low.
In 2017 my social worker put me in touch with Stoll's Outreach Team and my life changed.  Stoll assessed my needs and provided me with my own flat in their Wessex House residential development in Hounslow.  It's coming up to my year anniversary of living here at Stoll.  It's incredible looking back.  My girls are close enough to visit and I'm so much more confident, more myself. I like to live close to other Veterans – we all have something in common. I finally feel like a person and not a patient.
This year my Christmas will look very different to last year. Last year I spent Christmas in the nursing home. I didn't even decorate because I only had a room with my bed and bathroom in. This year, so much has changed. I'm hosting a Christmas party for my friends and neighbours with rubbish Christmas jumpers and mulled wine. And on Christmas Day, my family are coming to me for the first time and I'm going all out! I'll have a tree and decorations, presents for my daughters and nieces and nephews, the full Christmas dinner and best of all – we'll be together. I feel so proud to be able to make that happen in my own flat.
On behalf of Veterans and Stoll I ask you to consider a gift this festive season so that other lives are transformed, the way mine has been, by clicking to donate on the banner below.
You can read more Veterans' stories on our website.