North East Derbyshire District Council
Richard Dixon, Housing Options Officer at the North East Derbyshire District Council, recently helped a veteran faced with homelessness to find a safe and secure house.
Richard Dixon and Matthew Ellmer, Regimental Casualty Officer for the Grenadier Guards, recently helped a fellow soldier find a house after he was was threatened with homelessness. The soldier is a former sergeant who suffers with PTSD caused by a personal tragedy and the horrors he witnessed during his 20 years in the Army.
While Richard was interviewing the former sergeant about his predicament, he found out he knew the Army officer who was helping him – Matthew Ellmer. Richard and Matt both joined the Grenadier Guards – the infantry regiment of the Army – in 1984, before they were posted to different battalions.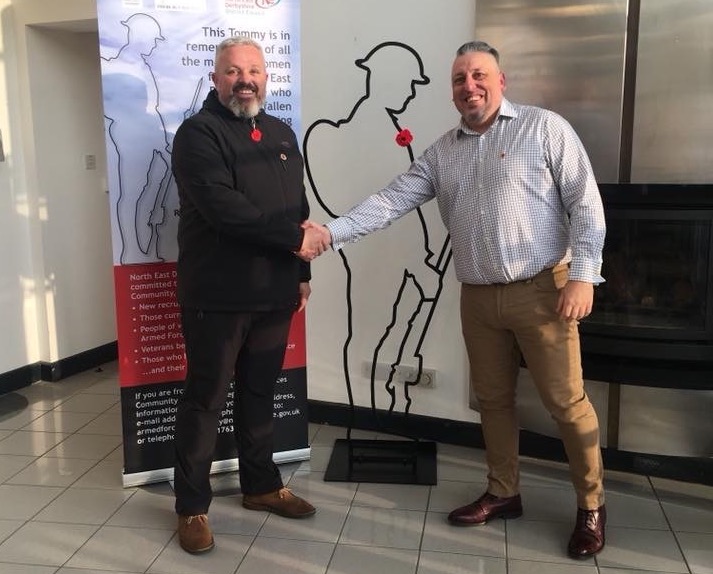 Because of the urgency of the case, Richard helped ensure the ex-sergeant was offered temporary accommodation and shortly afterwards, he helped secure a permanent council home for him.
A stable home is one of the first crucial steps to life on Civvy Street, especially for those with more complex issues such as PTSD. The soldier's mental health is now improving and Matt maintains ongoing contact with him.
With homelessness on the rise in the UK, this case demonstrates that by working in partnership with support services we can still achieve positive outcomes for our ex-forces personnel.
No Homeless Veterans briefing
The North East Derbyshire District Council housing team recently received a briefing from the No Homeless Veterans campaign on the role of Local Authorities in preventing veterans' homelessness. Richard said:
The No Homeless Veterans briefing was very helpful to the NE Derbyshire DC team who attended, who were all experienced officers with a minimum of 10 years of working with homeless people. It explained why veterans sometimes end up living on the streets, and the important role Local Authorities play in preventing this issue.

As a result of the briefing, we have made changes to our service and to the information provided in our triage packs, to help increase identification of veterans. We're proud to play our part in reducing the numbers of homeless veterans in North East Derbyshire."