Dave Gollop
Dave Gallop, 64, born and bred in Dorset, joined as at Stoll just under a year ago and in that time, despite the lockdown, has immersed himself with the community at Centenary Lodge and the wider veterans community in Aldershot. He is one of our most dedicated volunteers across our sites, having volunteered at Centenary Lodge prior to moving to Stoll. We sat down with him last week to discuss his time in the Army, how we came to join us at Stoll and the different volunteer projects he plans to work on now that things are beginning to open up again.
Dave served for 9 years with Devon and Dorsets, who have now been incorporated into the Rifles, from 1971-1980. He was posted to Belfast, Cyprus, Belize and Germany, with the last two years being in Warminster, where he trained the officers there on signals, serving as a radio operator.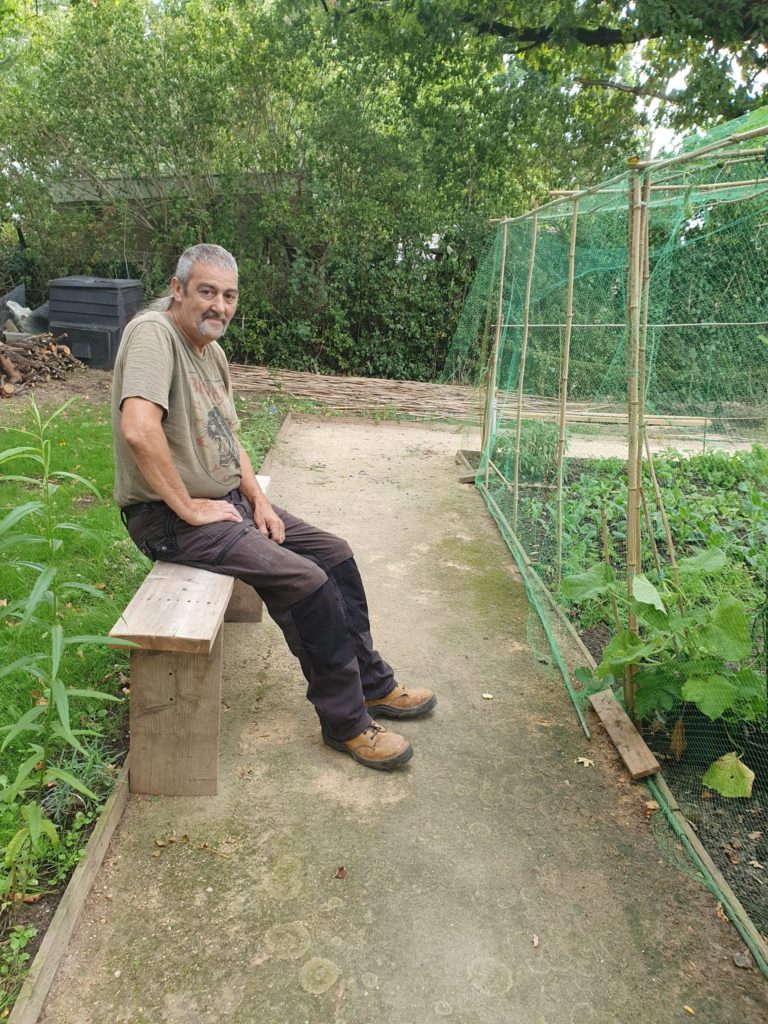 When Dave left the Forces, he was married and had two children, which heavily informed his decision. Moving back to Bournemouth, he struggled to settle after leaving the Army, bouncing between jobs and a subsequent breakdown of his marriage. He then remarried for twenty-five years, with his partner sadly passing away five years ago.
It was at this stage where Dave found himself on the streets. While working selling the Big Issue, one of the staff there suggested he apply for accommodation in London. However, difficulty with the accommodation there led to a short stay, instead moving to Aldershot, initially living at Mike Jackson House, another veterans housing charity in Aldershot. He would spend the next eighteen months at Mike Jackson House, where he would start volunteering at Stoll in our gardening club alongside working with Walking with Wounded.
In September 2019, Dave joined Stoll at Centenary Lodge, where his volunteering continued to expand to working with Parkside, a charity for learning for adults with learning disabilities. He does a number of different tasks for them including gardening and mini bus driving, the latter of which he also does for Dimension's. He spoke candidly about his depression when living on the streets and the positive impact that being in veterans housing over the last two and half years has had. In particular, his volunteering plays a vital role in his wellbeing and the importance of the community at Centenary Lodge pulling together throughout the lockdown.
During the lockdown, Dave has been working tirelessly to ensure not only our veterans, but also those across the community in Aldershot continued to receive support. This included driving the minibus for do shopping for those self-isolating, collecting prescriptions, taking residents to doctors' appointments and doing shopping for them when needed.
He also regularly attended the Veterans Hub run by the Shots Foundation, the charity arm of Aldershot Town FC, with the Hub reaching out to veterans across Aldershot. However, the Shots Foundation have announced a new project 'Veterans Supporting Veterans' which Dave will be working on in the coming months. Similar to his work during lockdown, they will be looking to support veterans across the community in Aldershot, expanding on their Veterans Hub, setting up regular 'Meals on Wheels' and a helpline for those needing support.
Thank you Dave for taking the time to speak to us and for all your work supporting the community at Centenary Lodge. We are currently accepting applications to our sites across London, with Stoll housing and helping across all age groups.