Terry Wood
Terry Wood, born in Fulham in 1962, grew up just round the corner from the Sir Oswald Stoll Mansions. Growing up he didn't aspire to join the Armed Forces, he finished his A Levels at school and had the offer of a place at Bristol and Durham University. However, Terry had an older brother who was already in the Parachute Regiment, serving in Northern Ireland. Just as Terry had finished school, in August 1979, his brother was one of eighteen British soldiers killed by the IRA at Warren Point, on the same day as the murder of Lord Mountbatten. After that Terry dropped his plans to go to university, deciding that he needed to understand his brother's world and be a part of what he had been a part of. He joined the 2nd Battalion Parachute Regiment and like his brother was sent first to Northern Ireland.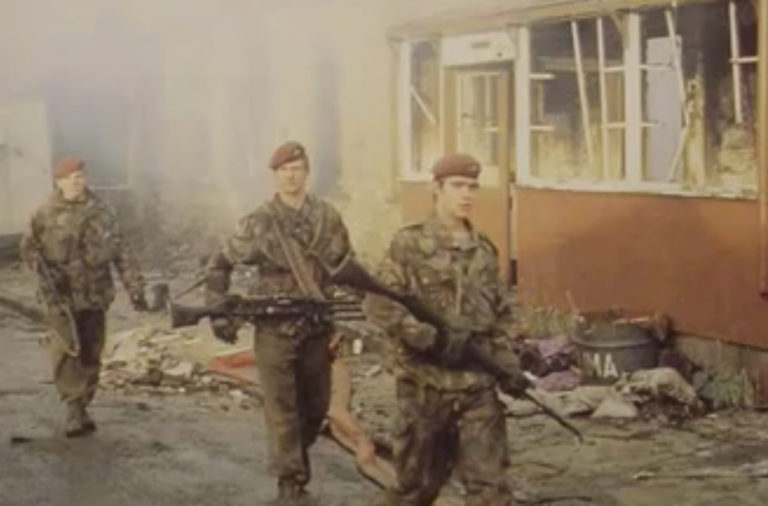 Terry speaks about the Paratrooper ethos of being the best that you can be and the bond between the men, as well as the attitude of never quitting. However, life in the Paras was difficult and particularly in Northern Ireland, Terry recalls the bullying that went on. When he went on his first patrol in South Armagh he was threatened by his section corporal not to lose the plot or if he did, he'd be shot next.
In 1982 the Falklands War broke out. Terry's battalion sailed from Portsmouth on the MV Norland and on the way down Terry wrote to his Dad and told him he didn't think that he could do this; that he wasn't meant to be a killer. He was part of 2 Para and they were the first to make beach landings at Port San Carlos. From the top of Sussex Mountain they witnessed the horrible sight of the navy getting bombed by the Argentine Air Force. Terry recalls in particular the explosion that came from HMS Ardent as "the biggest I'd ever seen, brighter than the sun".
Terry was part of the machine gun platoon and experienced a lot of close combat as well as working as a medic. Terry remembers how "we were up to our eyeballs in casualties". On 28th May Terry's battalion took Goose Green, 3 days before Terry turned 20. They then moved up to Bluff Cove where they saw the bombing of the Royal Fleet Auxiliary Sir Galahad which had the Welsh Guards on board. Terry ended up treating a lot of burns wounds, stabilising and evacuating casualties down the line. At Mount Kent Terry got a confirmed kill of shooting down an aircraft and from there it was on to Wireless Ridge and the last battle before pushing into Stanley.
Dealing with prisoners following the Argentinian defeat, Terry had to stop one man who wouldn't let him search his kit bag. Eventually he managed to get it off him and when he opened it, it had the man's dead brother in it. Terry recalls how that took him particularly hard. He took a few days out and drank a lot. A few weeks later, he flew back to the UK.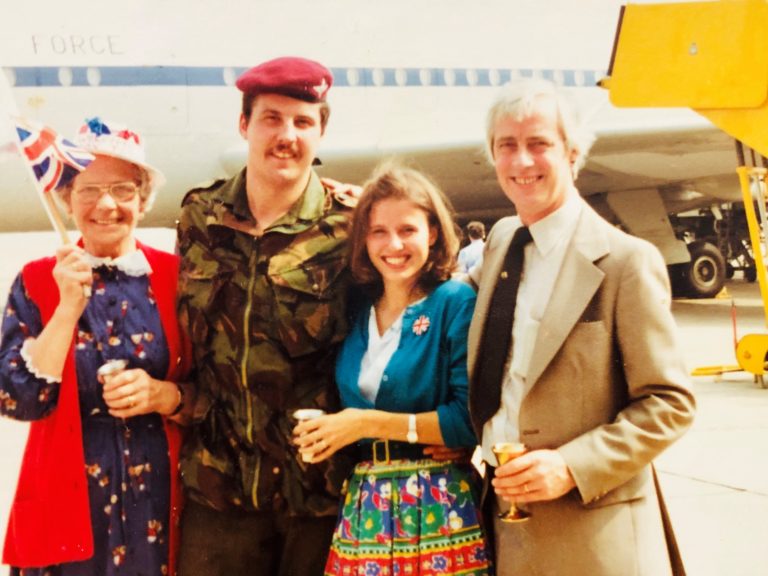 Terry struggled when he got back, his time in the Falklands had effected him greatly and he couldn't deal with people telling him he'd done a good job. One day whilst in Aldershot to pick up kit, the Farnborough air-show was on and a fast jet flew over the camp. He remembered himself and the other Paratroopers all throwing themselves to the ground and taking cover as the jets buzzed the camp. There was no 'decompression' time given to members of the Armed Forces following the Falklands War and they were thrown straight back into civilian life. Terry suffered from nightmares and flashbacks, as did many of his colleagues, and he broke up with his childhood sweetheart.
In 1984 he was transferred to the Royal Army Medical Corp but left in 1988 following a couple more tours of Ireland. He went into motor sports and worked as an instructor at race schools. He also started a company called Race Fit, running PT sessions for racers including the likes of David Coutard, Alan McNish, Dario Franchitti and Giles de Feran.
In 1990 Terry was still on Reserve and they tried to call him back for the 1st Gulf War. He argued not to go on medical grounds due to PTSD. Having been doing well until this point, in the mid-90s Terry suffered from a nervous breakdown. He got divorced from his wife and went into a dark place. He was depressed and suicidal, sofa-surfing and sleeping in his car for about 18 months. One particularly bad day he rang Denzel Conick, who ran the South Atlantic Medal Association, and told him that he was going to end it. Denzel said to give him to give him 24 hours. He went and spoke to Lieutenant Colonel Brewis at the Army Benevolent Fund. Lieutenant Colonel Brewis put Terry in touch with Stoll, who were able to find him a flat at the Sir Oswald Stoll Mansions in Fulham.
Terry was still dealing with a lot of issues at that time. He risk-assessed everyone and everything as though still in a war zone, was abusing alcohol and soft drugs, and he pretty much didn't leave his flat for a year. He went to a few therapy sessions through Combat Stress but found these difficult as there were lots of drinkers there. The NHS tried to just give him drugs for his PTSD. Luckily, through Stoll and the NHS he found a psychiatrist who he was able to get on with, an ex-army man from South Africa. Terry emphasises the huge difference this psychiatrist was able to make. Although there is no cure for PTSD, the debilitating effects that can control someone's life can be lessened. Terry went through a court case for custody of his children. He was granted it due to a Surgeon Captain psychiatrist from Royal Nava Haslar defending his mental health problems as PTSD.
He started engaging more with Stoll and later became the chairman of the Stoll Residents' Association, supporting the management team and the tenants on site. While still at Stoll, Terry started doing some anti-piracy work as part of the armed security team on container ships. He was posted to Tanzania where we met his now wife, and they are now expecting a baby in January 2020. Despite some setbacks due to some serious health problems including chronic leukaemia, Terry managed to carry on and felt ready to move on from Stoll once he had recovered. He applied to Stoll's Veterans Nomination Scheme to help him find a new home for him and his new wife, and moved into an apartment in Chelsea, swapping with an older Korean War Veteran who needed to move into Stoll's supported housing.
Since then Terry has started up a successful catering and hospitality business with a friend from his car racing days called GT Gourmet Foods. They provide catering for a lot of the big race teams in Europe and the UK. Terry hopes to one day move back to Tanzania with his wife and is building a house there.
Looking back at his time at Stoll, Terry emphasises that it was the best place he could have come to and that he doesn't know where he would be without it. He says "the security of knowing I had somewhere to stay for life really was the building blocks for me getting my life back on track". Over the years he has also spread the word and tried to help others to reach out for help, including referring some of his Parachute Regiment colleagues in difficulty to Stoll. He notes that pride is a big thing for Paratroopers and asking for help doesn't come easily. For Terry, getting a diagnosis of PTSD was a revelation and since then he has felt it is important to look out for others who might not be coming forward, to identify it in your friends and help them if  and when they need it.