George Brown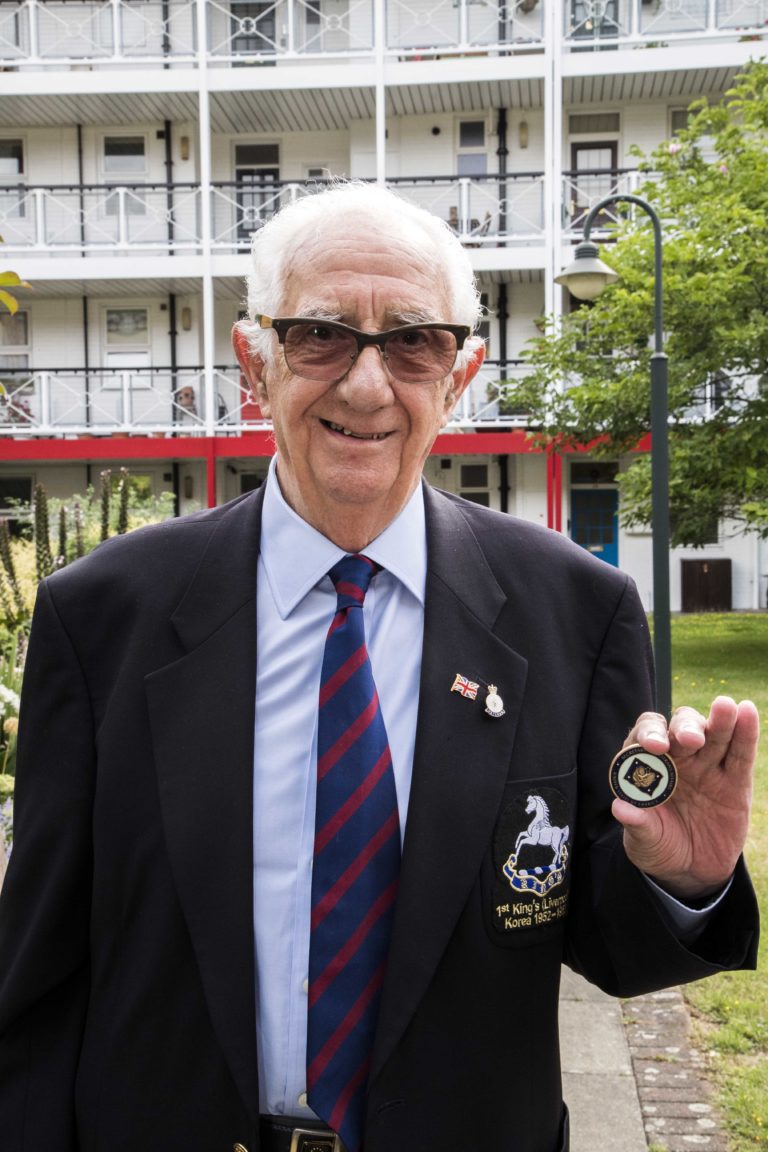 George and Anne Brown moved into the Sir Oswald Stoll Mansions in 2014. They recently attended the Not Forgotten Association Buckingham Palace Garden Party hosted by the Duchess of Gloucester. George and Anne met in the Sixties whilst working in a London factory manufacturing concertinas, whilst George was still recovering from his wounds sustained in the Korean War.
George, born in London in 1934, had already experienced something of the horrors of war by the time he was called up for National Service, having lived through the Blitz during WWII. At the age of 18 George was called up for National Service with the Inniskilling Fusiliers of the British Army. After six months of training he was transferred to the King's Liverpool Regiment and deployed to Korea.
Speaking of the five week boat journey to Korea, George says "I got to know a lot of very nice people on that journey on HMS Asturias, most of them I had trained with as well. On the troop decks, two person cabins were fitted with bunks to fit six men – so you became very close over five weeks!" When George and his compatriots arrived, Britain has already been fighting the war in Korea for over two years and almost 100,000 British troops had already been deployed.
George had been in Korea a while and had become used to going out on night patrols when he was sent out on the one that would change his life. That night he and three other men from his platoon left the base on a standing patrol. When they were around half a mile in front of their lines they became aware that something wasn't right. They phoned back to base and as they awaited further orders they could hear the enemy closing in around them. They began to withdraw but as they did so the ambush began and they were met with heavy gun fire. George sustained serious injuries and was left with fourteen bullet wounds in his leg as well as one in his hand. He managed to use him arms to crawl his way through the paddy fields away from the enemy and was eventually found by one of the men he had shared a cabin with on HMS Asturias, Peter Adlem, who came out after the patrol to try to find survivors. George recalls Peter as "one of the bravest men I knew" and the man who saved his life. George was the only one of the men who left on that patrol to survive.
The American military had just introduced their Major Frontline Hospital Programme, better known as MASH. George was first taken to one of these frontline hospitals, who were able to operate to save his leg there and then. He spent a few days in the frontline hospital and was then evacuated out to Seoul, followed by a Commonwealth hospital in Japan. He spent eight months in a hospital bed before he was deemed fit enough to make the journey back to England.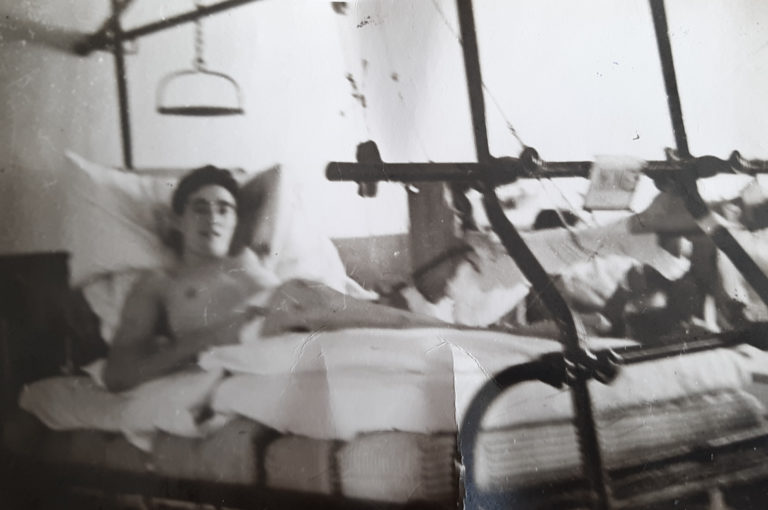 George returned home to his Mum and Dad aged 19 and it took a long time for him to fully recover. "Thanks to friends and family I was ok," notes George. "I had a friend who worked at the local Pictures and used to make sure I got a good seat when I went in the afternoon. It was little things like that that made things better."
George started learning to drive and went to the Labour Exchange to find work. He got a job in the concertina factory where he met Anne. George later went on to work in the Foreign Office as a driver for ambassadors and senior civil service officials. It involved a lot of travel and Anne would often go with him when he was working abroad across Europe and America. On one occasion when there was political trouble brewing in Italy, George was tasked with delivering an armoured car to Rome and he and Anne recall the lovely drive back in the substituted Rolls Royce.
Looking back on his experience in the Korean War, George notes how it took him a long time to physically recover, and that he never completely got over the injuries. He is now having to use a walking stick and Anne helps him a lot. "He's good with the walking stick though," said Anne, "so it's not too bad". George is also now deaf in one ear, which he puts down to the heavy mortar raids in Korea.
George and Anne used the attend his regiment's reunions every year in Liverpool, although they reflect that it's been a few years since the last one they went to. At one of the previous reunions George met the man who first treated him in the field, who he remembered gave him his first injection for pain relief after he was found, "not that it helped much!" recalled George.
George and Anne came to Stoll four and a half years ago, having been worried that the building where they were currently living was going to be demolished. The area where they had been living had completely changed since they moved in and there was uncertainty as to what would happen next. Stoll was able to coordinate their move into a two bedroom flat at the Sir Oswald Stoll Mansions in Fulham. They now have a nice flat which they have redecorated themselves, overlooking the estate's gardens, and are supported by the team at Stoll including a weekly visit from their dedicated support worker, Rachel.
Friends come to visit and love the gardens. They also have two children, a daughter who lives just down the road and a son living in Kingston. With regards to Stoll, Anne noted "The facilities here are the best, especially with the doctor's surgery on site. The community here means that you are protected against loneliness and looked after as you get older."