Community and Social
The Health & Wellbeing programme has a huge range of community and social activities to get involved in at Stoll, helping to overcome isolation and loneliness.
All activities are open to residents and the wider Veteran community.
There are coffee mornings,  external trips and many regular classes to take part in. Take at look at our What's On calendar to see the full list of all the events, regular classes and activities available.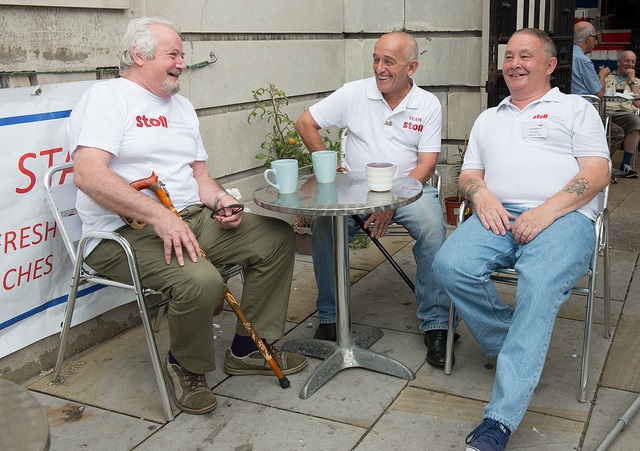 Sir Oswald Stoll Mansions
Chelsea FC Foundation Exercise & Mobility – every Monday at 9.15am
Tai Chi – every Tuesday at 9.30am
Pilates – every Monday, Chair at 10.30am and Floor at 11.30am
Iyengar Yoga – every Monday at 6pm
Archery – every Wednesday at 10am. An Archery Tournament will also take place on Sunday 31st March from 10am. Click here for more information.
Dancing – ballroom on Wednesdays at 7pm, freestyle on Saturdays at 9am
Minibus shopping excursion – every Thursday at 10am
Zumba – every Thursday at 11am
Bingo – every Thursday at 2pm
Coffee afternoon – every Friday at 1pm
Veterans Voices Choir – every Friday at 2pm
Chiswick War Memorial Homes
Drop In – every Friday between 10am and 12pm
Lunch club – monthly on a Monday from 12.30pm – 2pm (next event on 18th March)
Easter coffee morning – Friday 12th April between 11am and 1pm
Summer BBQ – Wednesday 19th June 12 noon – 4pm
Centenary Lodge
Walking club – every Thursday at 9am
Coffee afternoons – every Friday at 12pm
Gardening club – every Wednesday (weather dependent)
Monthly themed dinner events
Countess of Wessex House
Tai Chi – every Tuesday at 10.30am
Coffee afternoons – every Friday at 1pm
Monthly Gurkha welfare advice surgery